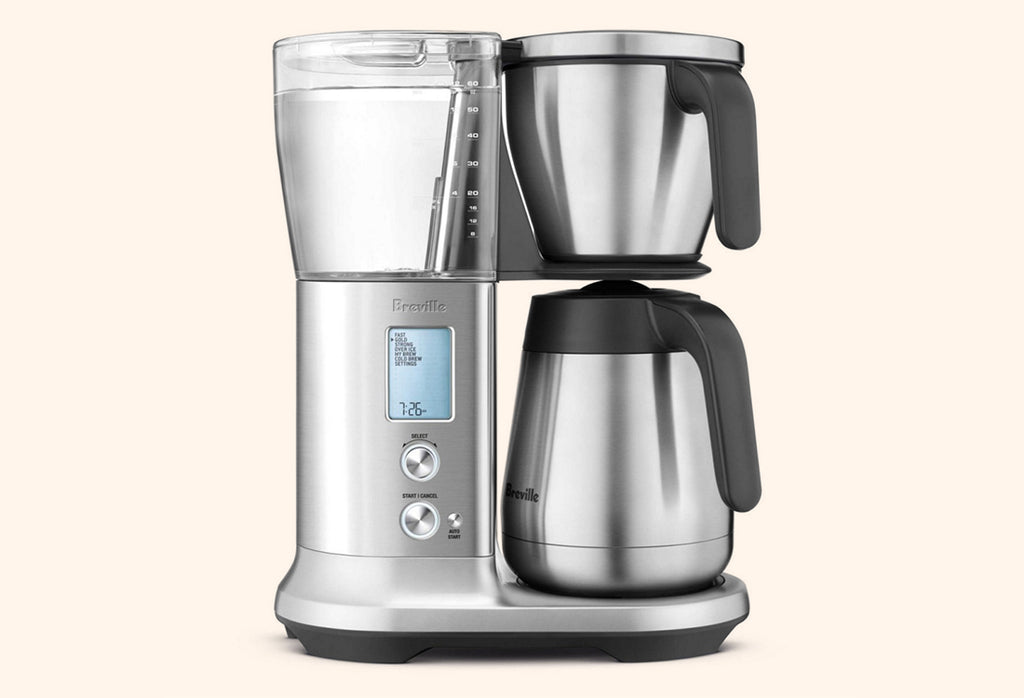 Breville Precision Brewer® Thermal
Breville Precision Brewer® Thermal
We love this brewer. Compared to most brewers that don't offer many adjustments or settings, this one allows you to fine-tune your brew to have it taste amazing.
Full specifications and further images are available here.
PRESETS WITH CUSTOMIZABLE SETTINGS
With 6 unique brewing modes, you can enjoy the perfect, balanced coffee exactly the way you like it. Preset modes include Gold, Fast, Strong, Iced and Cold Brew. To fine-tune taste you can adjust bloom time, flow rate and brewing temp or brew pour-over using a drip adapter with your favourite pour-over device.
PRECISE TEMPERATURE CONTROL
Great tasting coffee requires precise control over temperature, flow rate and contact time. 1. PID Control: Adjustable and precise digital temperature control. 2. Pump: Select from 3 different flow rates to optimise contact time. 3. Thermo-Coil Heating System: delivers water that is purer than typical brewing systems that use aluminium.
GOLD CUP STANDARD
In Gold Cup preset mode, The Breville Precision Precision Brewer automatically adjusts the water temperature and brew time to meet the standards set by the SCA.
AUTO 'STEEP & RELEASE' TECHNOLOGY
Breville's patent-pending Steep & Release valve holds the water in contact with the coffee when small cup volumes are being brewed without the carafe in place, automatically.
MY BREW SETTING
Allows you to customise any of the parameters like bloom time, brew temperature and flow rate to suit the particular coffee you're using - whether its more floral, fruity, earthy and so on.
DUAL FILTER BASKETS
Brew any volume of coffee exactly how you like it with the Flat Bottom & Cone Filter baskets, both included.
SPECIFICATIONS

Accessories

Included Accessories:
Thermal Carafe. Coffee Spoon. Cone filter basket insert. Mesh basket filter. Flat bottom basket filter paper pack (10 pieces). Water hardness test strip.

Capacity

1.8 L / 12 cup.

Construction Materials

Brushed Stainless Steel

Dimensions (WxDxH)

17 x 31 x 40 cm

Dual Filter Basket

 Flat Bottom & Cone style Baskets included

Power

Gold Cup, Fast, Strong Brew, Ice Coffee, Cold Brew, My Brew.

2 Year Repair or Replacement Warranty